NMSOH Announces..
The Main Office has closed down. NMSOH is only online at this time. They do however still have support groups.

Updates:
Also please note:
The Albuquerque Support Group meetings resume:
The fourth (4th) Thursday of each month. Evenings 6:00 pm - 8:00 pm
more...
If you have a support group you would like posted here contact us.
Newsletter
Our newsletters are online in pdf format
Finances
NMSOH is not accepting donations online at this time except to help cover the costs of this website.
As far as this webmaster knows we are no longer registered as a 501(C) 3. So any donations are NOT tax deductible.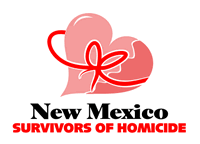 FINAL WITNESS TELEVISION SHOW LETTER TO SURVIVORS

Greetings from Final Witness,

I am the executive producer of Final Witness, a new true crime series for ABC Television that will premiere in 2012. When I conceived Final Witness it was as an antidote of sorts to standard true crime sensationalism. I envisioned the series as victim-focused and one created out of the memories and thoughts of the people who knew and loved that person best. We work closely with victims' families to tell the stories of the LIVES of their loved-ones, not just the stories of their deaths. In every tragedy there is something to be learned and to be carried forward, and that's the stuff from which our show comes. It is our hope that thestories will speak to the complexity of human relationships and the resilience of the human spirit. We also hope that it might serve as a part of the healing process for the victim's family and will inspire the audiences who will be watching.

Finally, I should add here that we make a contribution of $10,000 in the victim's name to the charity of his or her family's choice and that our format requires that all cases must be fully adjudicated.

As you consider whether your story is a good match for our show, please feel free to

contact Rebecca Morton, our show's researcher. She can be reached at

rebecca@lincolnsquareprod.com and will be happy to answer any questions or

concerns.

Thank you for your time and consideration.

Best,

Christine Connor

Alert! Repeal the death penalty repeal in New Mexico.
For more in depth information on the death penalty go to homicidesurvivors.com
NOTICE: Currently NMSOH has no Federal Funding and the Board of Directors closed it down sometime this year. I have no further information on the status of the group.
I have been with this organization since 1995 and created this website in memory to my son. There have been many brave men and women, whom I have met over the years, who have suffered a loss so great there are no words to describe the pain and injustices they have had to bear. I hope that we can help them remember the victims.
I still have contact information to many of the victims families and the police working on some cases. The OMI is offering grief support groups...see the sidebar.
This web site will remain alive as long as I can continue to update it. If you are a survivor of homicide and would like an unsolved case or a memorial page please contact me.
Patti March
webmaster@nmsoh.org
New Mexico Survivors of Homicide was a Not-For-Profit 501(c)3 organization founded in 1996. They provided support and information for survivors of homicide about the grieving process, the criminal justice system and all other issues pertaining to the survivors of a victim of murder.

The following information is provided as a service because we know the devastation that a loved one's murder causes. We hope that the information may help, in some way, the painful process of dealing with the horrific crime of murder against the innocent victims, their family and friends.

Here is some of what you will find in each section of our site:
| | |
| --- | --- |
| | On our Memorial pages you will find the names of many victims who were murdered in New Mexico or whose loved ones live in New Mexico, with links to individual memorials. |
| | On our Unsolved pages law enforcement and survivors are asking for your help! You will find links to cold cases and open investigations which need additional information to apprehend the murderers. |
| | Learn about the effects of homicide by visiting our Grief section. |
| | Our Reflections section contains poems, quotes and sentiments. |
| | The Resources section is where you can find information about crime, the justice system, victim assistance and links to similar resources across the country. |
| | Learn about our Organization. Support group meeting places across the state, Newsletters, Board of Directors, Supporters, etc. |
| | We want to hear from you. Send us your suggestions and read what others have said on our Feedback pages. |
110 murder victims were added to our memorials in 1998
159 murder victims were added to our memorials in 1999
166 murder victims were added to our memorials in 2000
149 murder victims were added to our memorials for 2001
177 murder victims were added to our memorials for 2002
1

63

murder victims were added to our memorials for 200

3

Read more about New Mexico Homicide stats and about what is a Survivor of homicide here:

FYI:

In 2004 the NM Office of the Medical Investigator decided to no longer supply NMSOH the next of kin of homicide victims and at this time are not even giving us the names of homicide victims. We need you to notify us if you would like to be added to our mailing list or to add your loved one to our list of victim's names. We are sorry for any pain this may cause families and are working to try to resolve this problem with the OMI or other agencies that may be able to assist us in locating the names of new victims and their next of kin contact information. We are trying to reach out to all survivors in the State of New Mexico and those of you who are NM residents and have had loved one murdered elsewhere.

Thanks for your patience,

NMSOH