August 15, 1974 - October 13, 1998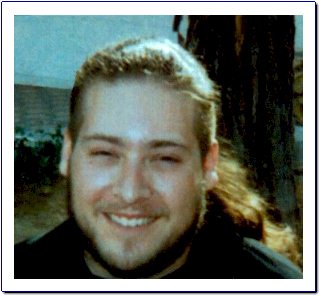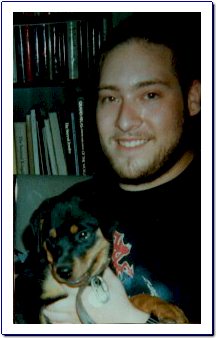 Jason Blazer was the only child of Walt and Linda Blazer. He lived in Las Cruces all his life, and died at the age of 24 after being shot while working at Pic Quick, a convenience store, where he was an assistant manager.

Jason's interests while he was growing up included archery, swimming, and professional football - he was a loyal Miami Dolphins fan, and would always wear one of his several Miami shirts on the day the Dolphins played. Most recently he had also become an enthusiastic fan of the El Paso Buzzards ice hockey team and went to their games as often as possible.

As a young teenager, Jason enjoyed putting together models of cars and airplanes, and took pains with the most minute details. He was also interested in real cars and planes. He had a number of books about airplanes, as well as a wonderful set of video tapes which he watched over and over. As he got older, he became interested in working on cars, enjoying most of all the interaction with the friends who helped him.

Jason had artistic talent but never did develop it fully because he compared himself to others and came up short in his own eyes. His main love, however, was music. As a teenager he liked hard rock, heavy metal music. Jason had deep emotions, and the intensity of this music helped him deal with them. As he collected tapes and attended concerts, he became very knowledgeable about the various groups, being able to identify the members of each group, and to discuss easily the history and activities of the group. He listened to music constantly and felt it deeply. His dream was to work closely with the groups he liked best, and so he was planning to study audio engineering in order to be able to work at concerts or in recording studios. In recent years, Jason's musical tastes had broadened, so that he enjoyed a wider variety of music.

Jason was very proud of the Blazer name and became interested in the history surrounding it. Blazer's Mill, near Mescalero, was the site of one of the battles of the Lincoln County War, involving Billy the Kid. The two men killed in that battle are buried in Blazer Cemetery and Jason always said that he wanted to be buried there, too. And so he was.

Although he didn't have an academic bent, Jason was highly intelligent. His thinking was quick and innovative and, combined with his sense of humor, often produced comments that would almost take the listener by surprise. He loved being able to make other people laugh.

The most wonderful thing about Jason was his warm, loving heart. He cared very deeply and sincerely about his friends, and could see the good qualities in them that they sometimes couldn't see in themselves. He was a very spiritual person in the true sense of the word, although he had little time for religion for its own sake. His nature was so sensitive that he had to protect it with a shell that sometimes appeared hard to other people. He had high values, common sense, and a wisdom far beyond his years.

Jason experienced a lot of turmoil while he was growing up, the result of a free spirit being asked to conform to the ways of others. In recent years, though, he had matured and achieved a sense of balance. He was a responsible and hard-working employee at Pic Quick, and very much enjoyed and was proud of his good relations with his co-workers, Pic Quick customers, delivery people, and the policemen who stopped in often.

Most important to Jason was having a special love in his life. He had never dated very much because, while he had many friends, he was waiting for the one perfect love for him. When Cecile LaRue came into the store in early September, 1998, they both felt an attraction to the other. She was quick to point out that she was married, with a five-year-old son, and then explained that she and her husband were estranged; they had not been living together as husband and wife for some time.

The more Jason and Cecile talked, the happier Jason became. He had found his special love in this beautiful, intelligent young woman who also felt the same about him. Unfortunately, Cecile's husband at the time (now ex-husband), Blake Scott, is a psychopath who refused to release his control of her in spite of separate living arrangements, discussions of divorce, etc.

Blake Scott came into the store about 1:30 a.m. on Tuesday, October 13, when Jason was working the 11:00 p.m. - 8:00 a.m. shift. As shown on the store's video camera, Blake Scott waited in the adjoining car wash for four minutes to be sure the store was empty, then entered the store wearing a mask, and shot Jason four times. The last three bullets were delivered execution-style in the back of the head.

Blake Scott was arrested less than eight hours later and charged with first-degree murder. However, incredibly, the jury in his trial February 29 - March 3, 2000, found him guilty of second-degree murder only. At the time of this writing (June 2000), he is undergoing a 60-day evaluation that was ordered by the judge before sentencing. The maximum sentence he can receive is 24 1/2 years, so he will probably come up for parole in 10 to 12 years. He has never shown any remorse or regret, which is characteristic of psychopaths. However, it is our belief that Blake Scott will learn that there is Divine Justice.

Jason believed that the spirit continues to live after the body dies. While the physical form and personality will be very much missed, we may all take comfort in knowing that the beautiful spirit that is the real Jason is still very much alive and free.
---