visitors


WANTED!
THE MURDERER(S) OF

Jerry Lueras
Albuquerque, NM
Case #95-83586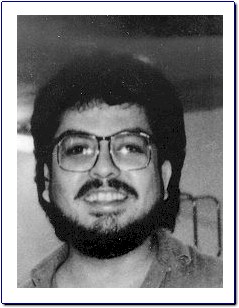 On Friday, June 16, 1995, at approximately 2:34 p.m., Albuquerque, NM Police Department (APD) officers were dispatched to 1101 Madeira Drive SE, apartment #229, in reference to a suspicious death. The residence of Jerry Lueras is a three story apartment complex, located in a middle class neighborhood in the city of Albuquerque. The apartment is located on the second level of the complex. There is an alley and parking area behind the complex. Lueras also lived with a white lesbian.

Upon officers arrival they discovered the nude body of Jerry Lueras in his bedroom. Jerry Lueras was lying on the floor next to his bed.

Subsequent investigation revealed that Lueras did not show up for work on Thursday, June 15, 1995 and Friday, June 16, 1995. Lueras' boss called the manager of Lueras' apartment, who then made the discovery. Several items such as a stereo, VCR, and televisions were stolen. Other unusual items taken were a picture of Lueras' Aunt and a glamour photograph of Lueras' sister. Also taken was the meat that was in Lueras' freezer, sheets, pillows and bedding material.

Jerry Lueras' vehicle was also stolen and recovered at the Albuquerque International Airport, which is located within a few mile of Lueras' residence.
Jerry Lueras was a 36 year old, single, Hispanic gay male. Lueras made a living as a hair dresser. Lueras consumed alcohol on a regular basis and to an extreme. Lueras had a reputation for frequenting Gay bars.

If you or anyone you know has information about this murder, please contact Detective Rich Lewis at 505-256-2050, Crimestoppers at 505-843-7867, or you can email us. Any information, no matter how insignificant it seems, may be important!