Joaquin Marcos Martinez

12/02/75 - 07/02/95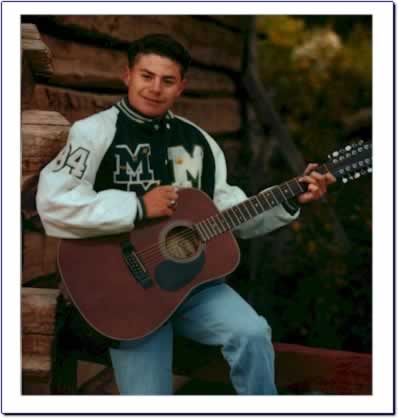 ---
Joaquin Marcos Martinez was born in Las Vegas, NM on 12/02/75.
He lived in Mora, NM, attended the Mora Independent Schools, and graduated in May, 1994. He joined the NM National Guard and was an active member of the Guard on July 2, 1995 when he was murdered by Rick D. Tapia from Santa Fe, NM at the Allsup's Convenience Store in Mora.
Joaquin is survived by his parents Eleanor Martinez Romo & Leroy. Lupe & Bernice Leyba. Brothers: Theodore Maes, Mario & Bernardo Leyba Sisters: Bianca Romo and Andrea Leyba. Grandmothers: Durcilia Martinez, Candelaria Leyba
Joaquin's hobbies were sports of all kinds and music. He played bass guitar for "Sangre Joven" and "Nueva Vida" local bands. Lettered in high school sports.