05/10/72 - 01/27/98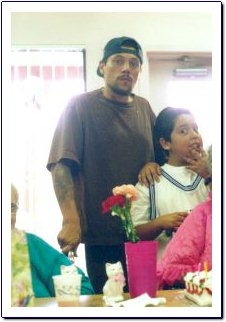 To those I love and
To those who love me

When I am gone, release me, let me go.
I have so many things to see and do.
You mustn't tie yourself to me with tears.
Be happy that we had these years.
Grieve for a while for if you grieve you must,
let your grief be comforted by trust.
It's only for a while that we must part,
So bless the memories within your heart.
I won't be far away for life goes on.
So if you need me, call and I will come.
Though you can't see or touch me,
I'll be near and if you listen with your heart,
You'll hear all my love around, soft and clear.
And then when you must come this way alone,
I'll greet you with a smile and say
"Welcome Home"
---
WE ALL NEED TO STOP THE MADNESS OF KILLING INNOCENT PEOPLE NO MATTER WHO OR WHAT RACE THEY ARE. MY COUSIN, SAMMY MASCARENAS, WAS TAKEN AWAY FROM OUR FAMILY AT SUCH YOUNG AGE JUST BY BEING IN THE WRONG PLACE AT THE WRONG TIME. THE HURT WE STILL FEEL EVEN NOW IS TREMENDOUS. THIS MADNESS MUST END AND END NOW OR OUR FUTURE WILL NO LONGER BE WITH US.

SAMMY, THIS IS YOUR COUSIN MICHELLE. I HOPE YOU'RE AT PEACE WITH THE GOOD LORD. I WAS THINKING ABOUT YOU SO THAT IS WHY I WROTE THIS LETTER. YOUR SPIRIT WILL LIVE ON IN US FOREVER.

LOVE YOUR COUSIN,

MICHELLE
---