Christina Nicole Stansberry

12/20/83 - 06/26/02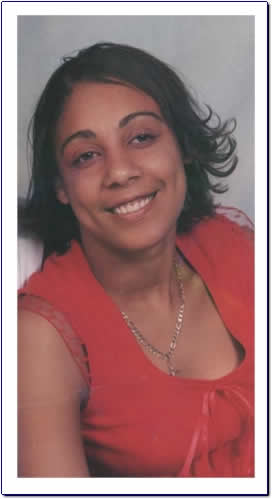 ---
Christina Nicole Stansberry
Sunrise- December 20, 1983- Sunset- June 26, 2002
Christina was a beautiful young lady full of life. She touched everyone she came in contact with her upbeat personality and radiant smile... she was called home all too early and we were blessed to have had her presence. Christina was well liked and always had great respect for the members of her church. She had one of the greatest privileges of all; she lived with her grandparents, in California. While living with her grandparents she had the pleasure of spending time with her friends and family, which she enjoyed the most. She had a loving personality that made her a very pleasant person to be with. Christina was special to her friends and family, everyone enjoyed her companionship she will be truly missed.
Christina was a fun and loving person, she always had a smile on her face.. she loved to dance and sing.. she was a lover of family and friends.
---
Three Dead In Laundry mat Shooting

Christina , short lived life was tragically ended in Albg New Mexico. on June 26, 2002, Christina was murdered and shot Several Times, she was in the wrong place at the wrong time. the gunman shot another woman and himself. She was only 18 years old .. She will forever be missed.. we love you Christina Grannie And Grandpa Stansberry Auntie Joyce, uncle Jiles Candice and Rodney.. Celesse, LaTanya,T'yuana Jr. Natasha R. Christina RIP: Uncle Ike and a host of other family members and Friends.
Other Links :Blackplanet.com- Memorychristina

Christina as as long as I live I will forever keep your memory alive
and you will live in our hearts forever

Love, Auntie Joyce.

---
Poem

In Remembrance of You


In Remembrance of You
I shed a tear
Never thought their would be a day
That you would not be here


In Remembrance of You
I see a smile
You brought Joy to the lives of others
With your charm and style


I walk day by day
thinking and remembering the good times with you
I walk these days, Christina
In Remembrance of You


I've seen you in Happy times, sad times
When you were weak and when you were strong
I see you and I in the bathroom
Singing our favorite song


In Remembrance of You
I see a young girl
Who truly loved God
But seeking to find her place in this world


To go on, from this day forth
I find strength in the Lord
with gentle memories of joy, happiness
The good times,
The love I feel,
And the security & comfort of knowing
You are in a better place


I will continue to say a prayer
To help us through
Because Christina,
This is in remembrance of you


Candice Guidry
June 2002

---