Christine Jean Elizabeth Valles

02/02/79 - 04/10/99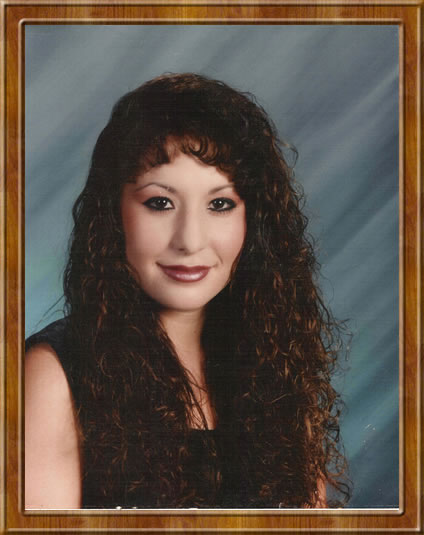 I am a mom that lost her beautiful daughter Christine Jean Elizabeth Valles to Gang Violence. Please hear my story!

The cries of our loved ones cannot be heard, so now we are there voices. Victims have no choice in becoming victims, but we as survivors of homicides do have a choice. We do have a voice! Justice......


(HEARTBREAK)

On April 10th, 1999 at 7:15 p.m. my daughter Christine Jean Elizabeth Valles was shot and murdered! My daughter Christine was twenty years old. She left behind her only son, who was only 17 months old; a child who she adored so much. She also left behind her only sister, who witnessed her sister's killing that day. As she held her sister Christine close to her heart, screaming not to let go, she watched her sisters tears rolling down her cheeks. "Please do not let go. Christine". She screamed out her name over and over again holding her tightly as her sister died in her arms that day. She will always relive those horrible hurting memories. Also left behind is her only brother who has so much guilt for leaving the house 15 minutes before the shooting began. His hurt is that he could have saved his sister from any harm. He was so protective and cared so much for his sister. He also has been scarred for life and will never be the same.

Her father still weeps that he will never hold and laugh with his daughter ever again. The memories of his daughter jumping into his arms when he came home from work. Asking her for a huggie doggie and calling her his Christini beenie. He still wakes up at night feeling so all alone and hurting because he will never be able to hold his daughter Christine again.

I, her mother give birth to a beautiful bouncing baby girl Christine Jean Elizabeth Valles -7lb's 11 1/2oz's, who was God's most precious miracle. When Christine was shot , I was not able to be by my child's side immediately to hold on to her, to let her know that mama would always love her and to beg her to please hold on. The guilt and devastation, and the pain I feel, is beyond repair. Not being there to hold my daughter's hand, and let her know that mama would have been there, is a pain and guilt I will have to live with the rest of my life!
God! It hurts so much - the pain is so unbearable.

I wake up every morning and go to sleep every night calling out her name "Christine."
I had twenty beautiful years, with my daughter Christine. I thank God every day for having those precious moments with her. Her son is the one that will never know what it is to have a mommy, The only thing her child Estevan will remember is what we tell him, about his mom. She was the most dedicated mom, She cried with joy when her son Estevan was born. She was so proud of her little baby boy, and so protective, never wanting any harm to come his way.
The memory this child remembers is when she was murdered. He was also present when the screaming and pleading of children and young adults yelling for someone to help them as the gunfire began.

How can you! (killer) not value the most precious miracle ( life). My whole entire family has been violated and damaged beyond repair. The hurt when the doctors told me that my daughter was brain dead is the most devastating thing a parent can hear. When the doctors said it is time to let her go, and when they rolled her out of her room, a big part of me died that day. To bury my own child who I gave birth to was so horrible. When you pulled that gun, you took a precious life away. Not one bullet but 16 bullet shells, where recovered. Children and young adult were screaming for their lives. You had no remorse; you kept on shooting and shooting, ignoring the cries of human lives.

You acted out as an adult. You committed an adult crime. You should be treated as an adult. If it was your child or a family member, you had to bury, tell me how you would feel.

I plead with the courts to stop the violence of these gang members, who count on getting away with murder because of their age. They are old enough to know what they are doing. If this does not stop, you may be burying your child next!

Please, I beg ( Gang Violence has to Stop!)

A Mom Who loved and still loves her child deeply!

---