Elouise R. "Wee-Zee" Charley

03/18/73- 12/19/97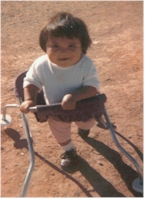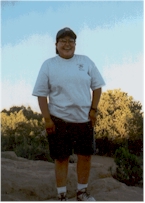 Navajo Blessing for a Newborn Child

"Today, we are blessed with a beautiful baby
May her feet be to the East
May her right hand be to the South
May her head be to the West
May her left hand be to the North
May she walk and dwell on Mother Earth peacefully
May she be blessed with precious, variegated stones
May she be blessed with fat sheep in variation
May she be blessed with respectful relatives and friends
May she be blessed with the essence of life
May she be blessed with the source of happiness in beauty
We ask all these blessings with reverence and holiness

My Mother the Earth
My Father the Sky
My Sister the Sun
All is Peace
All is Beauty
All is Happiness
All is Harmony".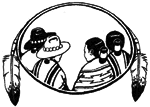 ---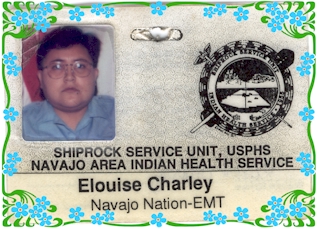 In Honor & Loving Memory of our Daughter, Sister and Auntie
Elouise Rose "Wee-Zee" Charley
March 18,1973 – December 19, 1997
Elouise "Wee-Zee" was the oldest of our three (3) children, a fun loving and cute young lady who was always laughing and the heart of many family gathering. In her short 24 years of life, she touched many hearts. At the time of her death, she was employed as an Emergency Medical Technician. She also had been a volunteer Firefighter and a member of the Search & Rescue Team for many years. Her love towards her people also allowed her to work with the Criminal Investigation Unit of the local Police Department. Above all this, she was "Daddy's Girl", always by her Dad's side, whether it was working on a vehicle engine, carpentry or working around the house. With a twinkle in her eye and dimples adorning her cheeks, she hung out with Dad a lot. She was also her Mom's special friend and daughter.
The Charley family extends their heart-felt Thank You for all the support, prayers, donations and presence during our time of sorrow over the tragic loss of Wee-Zee. Her family misses her deeply. It gives the family special comfort to know that Wee-Zee had many wonderful and caring friends and co-workers. The family extends a special Thank You to the all the EMTs, Firefighters and Police Officers of the Navajo Nation Emergency Medical Services, the Shiprock Fire and Rescue Department, the Shiprock Department of Public Safety, and the San Juan County Fire and Rescue. May God Bless each and everyone of you.
From Wee-Zee's family:
Perry & Louise (Dad & Mom), Perrin, Cpl., USMC (Brother), Sherry (sister), and Christine (niece)
---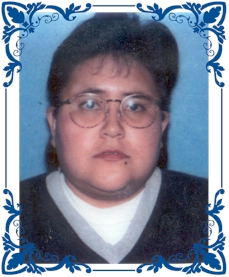 Wee-Zee: Our First

Little did we know how soon your time would come
We still can't believe you are gone
There was no time for goodbyes
Your life here on Mother Earth seemed so brief
We know that a part of us is no longer here
But yet, we also know a part of you lives on
As the wind sings off the canyon walls
Of your daily walk with the Creator

We saw you go to the Holy People
And we vowed to honor your name
We felt your Spirit surrounding us with love & comfort
And we realized it would never be the same
We will always cherish your smiles
When we are alone and filled with sadness
We will always remember your dedication and love
As you helped those less fortunate in their time of need
Wee-Zee, we will always cry for you
As the empty days go on……
Our Baby, we will always love you
As our journey goes on…….
"For our beloved Daughter, Wee-Zee, who now walks another world with the Creator"
Mom and Dad
---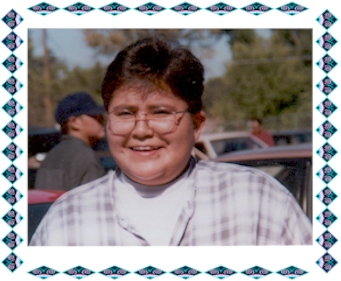 NEVER CAN SAY GOODBYE
I miss you every day of every month
I still see you when I close my eyes

I see you in a crowd
I still hear you laughing just around the corner
I see you in the distance
I catch brief glimpses of you
I see you ever in my dreams
With silent tears, I miss you dearly
That has to be wiped away as they fall
Our special memories and secrets come flowing back
With laughter and tears
These I keep to myself wherever I go

I have seen the double Falling Stars
You have sent to tell me that it's okay
Just as you did when you were here
Then I know that you still come around
To silently check on us
I love you and I miss you
A special friend always.
Edith