12/24/66 - 09/01/98
Loving son of Viola and Ernesto
& Valerie's older brother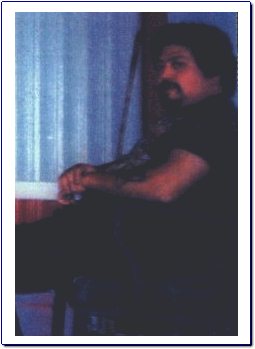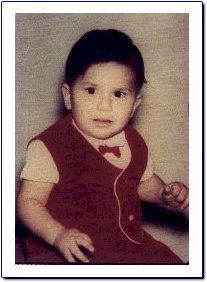 No time for goodbye;
Hijito, death took you on a lonely apple orchard,
your life blasted away by the vicious bullet
of a murderer's gun.

No time for goodbye;
Only the cold wind blowing through the trees as
the leaves covered your sweet face.

No time for goodbye;
Your soul left your body without warning,
guided by angels unto the Lord's Holy presence
and light.

No time for goodbye;
Our hearts were ripped apart with a cutting pain;
such pain we have never known.
Hijito, you took part of our bodies and souls.

No time for goodbye;
There were only tears, broken hearts, an empty
space in our family. Your mother, father and sister
could not be consoled.

Hijito, it's only been a short time since you went
to be with God and we are still trying to accept
the fact that you are really gone. We feel your
spirit around us and we know you are in a better place,
but we miss your sweet smile, your funny laugh and the
corney jokes you told so well. Our family gatherings
will never be the same.

Que dios te bendiga, mi hijito. May your soul rest in peace. May the perpetual light shine upon you
and grant that we may meet again in the
joy of eternal bliss.

For we had no time for goodbye!!!

Happy birthday, Danny!

Your tia Angie.
---
Danny was 31 years of age, the only son of Viola and Ernesto and Valerie's older brother. Danny was a very passive person and, as far as we know, he had no enemies. Danny was robbed for money that wasn't his - and then shot once. Just eight months before Danny's untimely death - his paternal aunt died of cancer. Danny put his life on hold for two months to care for his aunt (her children didn't do half of what Danny did). He slept on the floor holding her hand, administered her medication and kept vigil over her. Where do you find someone of Danny's young age to do that. What is even more amazing, Danny was terrified of needles, yet he gave his Aunt Mary her pain shots.

Danny didn't know that he was smart. He loved to watch Wheel of Fortune and, by golly, would solve the puzzles after one or two letters appeared. He was truly amazing. His love was old cars and the 60's music. He knew every song and artist.

I asked Danny, one month before his murder, why he wasn't married. His reply to me was that he still hadn't found another Viola (his mother). Not only did Danny die on that Tuesday morning, September 1 - but we all died with him. He was such a very special person and not a day goes by that I don't think about him and wish that I could tell him one more time how much I loved him (he was my very special nephew). There is a lot of anger in me, but I am hoping this anger can be anchored and used in a positive way so that Danny didn't die in vain. I pray that justice will be served and that his killers will be found and punished. A short five months after Danny's murder, his grandfather, our dad, died of a broken heart. Dad helped raise "his Daniel" and together they are watching over the rest of us.
Danny's Aunt, Angela Valdez
---
The murder of Danny Chavez remains unsolved. Please click here to veiw his unsolved case page.
---